The Perfect Easter Treat: Homemade Cinnamon Bunny Cookies
30 March 2023 — Recipes
Spring is in the air and Easter is just around the corner! What better way to celebrate this season of renewal than by baking some adorable cinnamon bunny cookies? These sweet treats are sure to delight both kids and adults alike. With their cute bunny shapes and warm cinnamon flavor, they are the perfect addition to your Easter baking repertoire. So put on your apron, dust off your rolling pin, and let's get baking!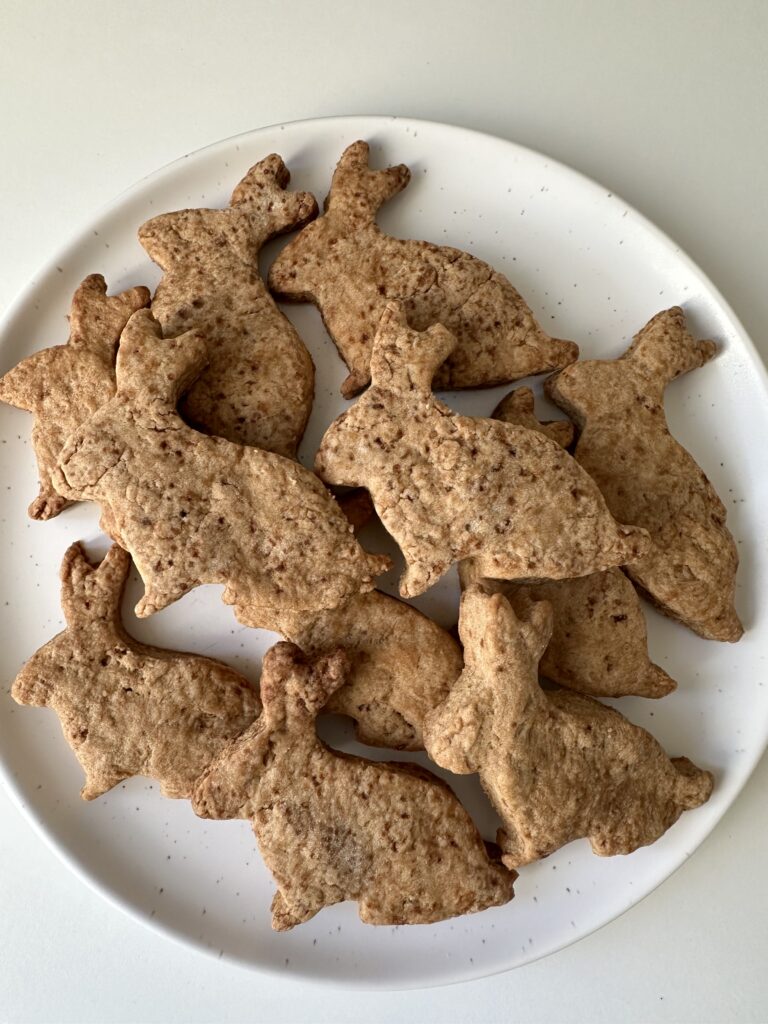 Cinnamon Bunny Cookies Ingredients:
1/4 cup brown sugar
1/4 cup + 2 tbsp vegan butter
1 tsp vanilla extract
1 cup flour
1-2 tsp cinnamon (depending on if you want a milder flavour)
How to make the cookies:
1. In a large bowl, mix the sugar and vegan butter until smooth. Add the vanilla and mix again.
2. In a separate bowl, mix the flour and cinnamon. Then add it to the vegan butter bowl mixture.
3. Mix with a spoon until it starts to stick together, then use your hands to press it into a dough. If you find that the mixture doesn't stick enough, add a bit of milk of choice. Cover the dough and place it in the fridge for 30 minutes.
4. In the meantime, preheat your oven to 350°F and line a baking sheet with parchment paper.
5. Once the dough has chilled, lightly knead it in your hands to soften it enough to roll.
6. Lightly flour your surface and rolling pin, then roll the dough out to around 1/4 of an inch thick.
7. Use a cookie cutter to cut out the shapes, re-rolling the scraps of dough until it's all used up.
8. Transfer the cookies to your baking sheet and bake for 15 minutes.
9. Allow the cookies to cool before serving.
And there you have it – a delightful and festive recipe for cinnamon cookie bunnies, just in time for Easter! As you happily eat your freshly baked cinnamon cookies, let your furry companion chew on their Zoë cinnamon dental sticks, that way you can both enjoy your own version of the beloved spice! So go ahead and give this recipe a try – we promise you won't be disappointed. Happy baking and Happy Easter!